Testimonials

When choosing a real estate professional, get to know their history!
Below, you'll find information that will help you get to know me better - from awards and credentials I've achieved, to references from past clients.
I consider the satisfaction of my clients to be my greatest achievement, and take pride in my high volume of repeat business and referrals.
Call me today - I'd love to add you to this growing list!
Linda. October 2019
"Vivian is so amazing! She is very professional and diligent! She has done a great job in selling our condo unit in Richmond, BC recently. She is always helpful, incredibly responsive, and very friendly. She always goes above and beyond of her tasks and duties to help her clients to reach their goals. We are so grateful for all her assistance of the sale of our property for the entire process. I'd definitely recommend Vivian to everyone for their real estate needs."
Email from Ross. July 8, 2019
"Vivian Choi was a superb agent. She was very professional and extremely hard working. She used a variety of techniques which helped to sell our home. She had a very good personality and was a pleasure to deal with. She was always positive and confident that our house would be sold quickly. At the final stage before signing the agreement the buyers showed some hesitation but through skillful negotiating she was able to get them to agree to buy home. I give full credit to Vivian for the sale of our home."
Email from Kathryn. Aug 25, 2016
"Hi,Vivian, I just want to say thank you for selling our house and finding the perfect buyers. I think you did an amazing job and I will recommend you to anyone and everyone in the area and in our future home in kitsilano.... And I thought I should email you and thank you for all you effort and hard work to make this sale. From the bottom of my heart I thank you..."
Email from Crawford. Aug 27, 2016
"Hi Vivian, Just wanted to thank you for sending to us or dropping off the special coloured advertising brochure of our home. We have been away for almost 3 weeks and when we returned home,this brochure was in our home with other mail. I didn't realize our home looked so good! Good job. I hope you are doing well. The market seems much slower than before. I think our sale was very timely for which we are thankful. You did an excellent job helping us sell our home. We are taking good care of our new owners home and yesterday spend time raking the back yard that was full of many, many oak leaves."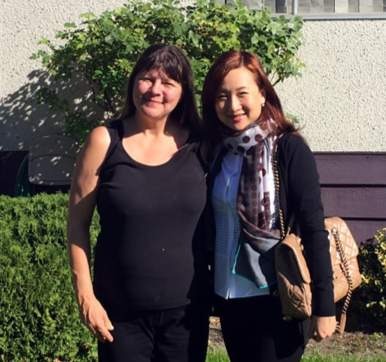 Email from Kam & Jayne. Sep 18, 2014
"Thanks Vivian! Appreciate your effort, and you did not disappointed us in the end :-). I think I made the right decision to have you to list our house, it was a bit bumpy during the process (due to we are not being locally) but you made it happen with your professional skill, most importantly you won our trust by putting your effort and heart to the deal. Thanks again."
Wayne Y. Sep 3, 2014
"First and foremost, Vivian is a very outstanding real estate agent. She is very diligent in her work as to sell our home as requested by our needs. Vivian is most loyal, works in a timely and efficient manner and we are very pleased to have worked with her. We definitely recommend Vivian as a real estate agent if you are looking to sell or buy your home! You won't be disappointed!"
Email from Ms Gloria W. March 4, 2014
"At the present day when the property market is rather slow, my husband and I could never have imagined that we could sell our Shaughnessy house and buy our new Hudson house in the short span of only one month.We credit this unbelievable success completely to you.
Having said that, I would also express our appreciation for your hard work, capability, thoughtfulness, reliability and cleverness. It was indeed an enjoyable experience to go through the process with you. You made it easy and stress-free for us. We have found an ideal new home as well as gained a new friend! Thank you very much.
Denis and I wish you continued success. We have no doubt that your new clients will be as happy and satisfied as we are."
Email from Mr John W. April 25, 2013
I really appreciate your honest effort and help, and when it comes
time to think of another realtor, you will be first on my list of
recommendations.
Email from Mr Ovidiu & Mirela G. on Sep 11, 2011
"We are writing this letter to express our gratitude in helping us purchase an outstanding single family home property in Surrey and sell our house in Richmond. This is the second time when you represented us in the purchase of a house. Thank you for convincing us to be patient and wait over 3 months for securing us the best possible offer under the given market situation.


Also, thank you for your patience as well in our common search for a home. We know you have been working unusual hours to make us happy and we are grateful for your dedication and professionalism..."
Email from Ms. Linda Lemke on Sep 17, 2009
"I got all the documents late last night. Thank you Vivian, you really did a great job for us on this and we appreciated having your expertise and talent."
Ovidiu and Mirela-Anca Gorjanu
"You made the entire process, quick and stress free."
Louisa Wan
"You are the most energetic and enthusiastic agent that I have ever seen in Vancouver."
Jennifer Jiang
"I'm very satisfied to your honest advises and your professional behavior."
Email from Annie & Jack. June 8, 2020
"Everything's going great. Just one small issue we've noticed that we've contacted the developer about. We'll be busy getting furnitures the next few weeks :)
Thank you and Stella for all the showings and guiding us through this process! We'll be sure to recommend you to our friends.
Take care and stay safe!"
Satisfied clients