TESTIMONIALS
When choosing a real estate professional, get to know their history!
Below, you'll find information that will help you get to know me better - from awards and credentials I've achieved, to references from past clients.

I consider the satisfaction of my clients to be my greatest achievement, and take pride in my high volume of repeat business and referrals.
Call me today - I'd love to add you to this growing list!
March 2003, Amy Chan
Dear Vivian,

My husband and I want to tell you how much we appreciate your excellent performance in selling our home at Hampton's Place in FOUR days. The price far exceeded our expectations and the transaction was smooth and easy. Thanks to your efficiency and expertise, we are now happily settled in our new home. We will certainly seek your help again in future real estate deals while recommending your professionalism as well as great after sales service to our friends.

Yours Sincerely,

Amy and PM Chan
October 2003, FangFang
Dear Vivian,

I want to thank you for helping me to buy my apartment. I am very satisfied with the purchase and will recommend you to my friends.

I appreciate all your hard work and am very pleased with the useful housing information you gave me. Thank you for bargaining hard for me and remaining available to help me after I have bought the apartment.

I wish you all the best in your work and take good care.

Sincerely,

FangFang
November 2003, George Wang
Dear Vivian,

It was good to talk to you again, Vivian! My wife and I are very happy with our townhouse and you must come to visit soon. Thank you again for being patient with us and taking the time to find out what are interested in. You have very strong communication and negotiation skills and they are a big reason why we were able to buy our home in such a strong real estate market. In addition, thank you for helping us even after we moved in. It is really appreciated.

It was a pleasure getting to know you and I wish you more success in the New year.

Sincerely Yours,
George Wang
January 2004, Dongha Baek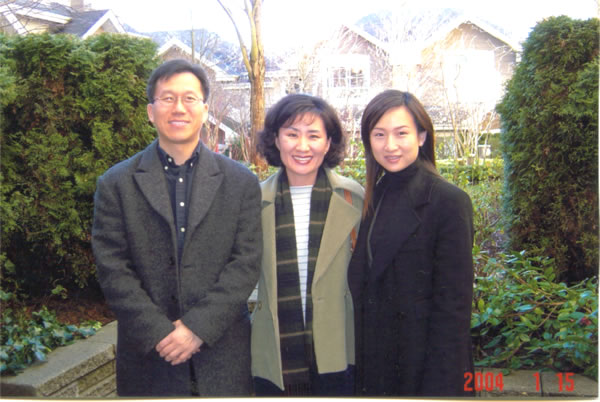 Dear Vivian,

I am Dongha Baek. How have you been so far?

My wife and I cannot forget when we received your phone calling. At that time we were embarrassed because we did not like such an advertisement calling. But we could understand you were so energetic and enthusiastic person. Also we were unfamiliar with the way of selling property in Canada but owing to your warm explain, we can decide to sell our apartment.

After we sold our apartment, we can find new house near White Rock area. Nowadays we could understand the meaning "time is everything" My wife loves her house and is proud of it. She enjoys the different atmosphere from apartment. We think this is all of your sailing ability and broad network.

Moreover we were deeply moved because of your careful concern after we sold our apartment. You solve all problems that may happen in completion date and came home to help us. After everything was finished, you called us again and again. The result -- we can be a friend. We confirm that you will be a successful realtor. Once again I appreciate your concerns and efforts.

Thank you

Best Regards,
Dongha Baek
September 2004, Jennifer Jiang
Dear Ms. Vivian Choi,

I'm writing to thank you again for your wonderful job you did on selling my apartment. As an owner, I'm very satisfied to your honest advice is and your professional behavior when you were selling my apartment as my agent. You are not only my professional consultant, but also a very responsible realtor who worth a trust, as I notice every time after you finish the showing, besides the door being safely locked, you also even close all the windows and shut off the lights completely for me, so while you were keeping my key, I have been not a little worries.

I believe you are a success realtor and I will be very glad to cooperation with you and your company again in the future.

Best Regards,
Jennifer Jiang
November 2004, Ovidiu and Mirela-Anca Gorjanu
Dear Mrs. Vivian Choi,

We want to thank you for all of your help, support and professionalism during our recent real estate purchase in Richmond, BC.

Thank you for patience you have shown in the course of over 2 months quest in searching a house.

All recommendation you made were right, including broadening our search from a townhouse to a detached single family house and your recommendation of mortgage agent. Your knowledge of the real estate market place was extremely helpful in making our decision. A special thank you for your negotiation expertise. Our budget range was tight and you negotiated a price that was way below our expectations and was acceptable to the bank appraisers and as well to the property owner.

You made the entire process quick and stress free.

You have addressed always our concerns being reassuring and helpful keeping us very well informed during a complicated court conditioned sale.

We are especially thankful for accommodating your schedule to meet our buying goals even when working weekends and very late evening hours (9:30 PM was not an unusual hour for you).

We will keep your number at hand so we can make referrals whenever possible.

Thanks for being helpful, professional and our friend.

Sincerely,
Ovidiu and Mirela-Anca Gorjanu
April 2005, Louisa Wan
Dear Ms. Vivian Choi,

I am here to thank you for selling my house at a very reasonable price, as well as helping me to find a house which my family is very satisfied with.

You are the most energetic and enthusiastic agent that I have ever seen in Vancouver. You are such a hardworking and responsible person who is very efficient and helpful.

I am very appreciated that you helped me to sell my house within one month. Whenever there was a showing at my house, you were always there on time for the set up.

Once my house was sold, you quickly helped me to start looking for my new house. I like how you kept searching for new house listings for me and provided me with the most up to date housing information. Whenever there is a new house listing, you quickly helped me to make an appointment to see the house, making sure that I do not miss any great houses. Now my family can't wait to move into our new house at the end of June!

Thank you for your professional advice and hard work. I will definitely recommend you to my friends and others who are looking for a responsible realtor.

I wish you all the best in the future.

Sincerely,
Louisa Wan
December 2005, Ramanaidu Family
Dear Vivian,

We, the Ramanaidu family, thank you for the hard work done by yourself in both selling and helping us purchase a new home. We did not expect the house to be sold so quickly and at a price that we expected. You have also negotiated very well on helping us purchase another home within the time we had to move out of the home just sold. You have also ensured that all the pitfalls in selling and purchasing a home were brought to our attention.

As explained to you, I have a friend that is looking into purchasing older homes with the intention of renovating them and selling them. We are looking for homes in the Richmond area. Please let us know if you have any homes for sale. I look forward to doing business with you in the future.

I also take this opportunity to wish you and your family a Merry Christmas and a Prosperous New Year. Thank you for all your help.

Best Regards,
Bina, Sonny, Krilen, Rochelle Ramanaidu
September 2009, Linda Lemke
I got all the documents late last night. Thank you Vivian, you really did a great job for us on this and we appreciated having your expertise and talent.
September 2011, Ovidiu and Mirela Gorjanu
We are writing this letter to express our gratitude in helping us purchase an outstanding single family home property in Surrey and sell our house in Richmond.

This is the second time when you represented us in the purchase of a house.

Thank you for convincing us to be patient and wait over 3 months for securing us the best possible offer under the given market situation. Also, thank you for your patience as well in our common search for a home.

We know you have been working unusual hours to make us happy and we are grateful for your dedication and professionalism.
April 2012, Mike & Hong
I want to thank Vivian for her precious time and effort to help us out in finding a new house and help us negotiate in our term in a very short period of time. Her dedication and professionalism are so cool. I will highly recommend Miss Vivian to all my friends and associates.

Keep up your good deeds!

You are so much more than kind!
April 2013, John W.
I really appreciate your honest effort and help, and when it comes time to think of another realtor, you will be first on my list of recommendations.
March 2014, Gloria Wong
At the present day when the property market is rather slow, my husband and I could never have imagined that we could sell our Shaughnessy house and buy our new Hudson house in the short span of only one month.We credit this unbelievable success completely to you.

Having said that, I would also express our appreciation for your hard work, capability, thoughtfulness, reliability and cleverness. It was indeed an enjoyable experience to go through the process with you. You made it easy and stress-free for us. We have found an ideal new home as well as gained a new friend! Thank you very much.

Denis and I wish you continued success. We have no doubt that your new clients will be as happy and satisfied as we are.
June 2014, Philip Wong
A Harding Working Agent with Good Client Base

Based on my experience working with Ms. Vivian Choi, I highly recommend her service to potential property buyers and sellers. Not only Vivian works dilligently, but also she did prove to me that she has a good client base. Vivian brought two competing offers within a three-day period, and sold my property in Richmond, BC above the asking price.
September 2014, Wayne Yiu
First and foremost, Vivian is a very outstanding real estate agent. She is very diligent in her work as to sell our home as requested by our needs. Vivian is most loyal, works in a timely and efficient manner and we are very pleased to have worked with her. We definitely recommend Vivian as a real estate agent if you are looking to sell or buy your home! You won't be disappointed!
September 2014, Kam He & Jayne
Thanks Vivian!
Appreciate your effort, and you did not disappointed us in the end :-).
I think I made the right decision to have you to list our house, it was a bit bumpy during the process (due to we are not being locally) but you made it happen with your professional skill, most importantly you won our trust by putting your effort and heart to the deal. Thanks again.
...
Your continue support to get to the finish line is very much appreciated in advance.
March 2015, Robynn Randell
Dear Vivian:

Re: The Sale of my Home

I am writing to express my appreciation, to you and to your assistant Nancy, for the excellent way you handled the sale of my home. To my surprise and pleasure within a month my condo has sold and I was out looking for a new home.

You made the process so very easy; the showings were organized and completed as scheduled without complication or last minute changes. Your attention to detail ensured that the offer, counter offers and subject removals were handled professionally and completed in a timely manner.

Vivian, should anyone ask me to recommend a real estate agent to represent them, I will certainly recommend you and of course your assistant Nancy.

Many thanks for your expert salesmanship, hard work and attention to detail; you are a credit to your profession.

With my very best regards,
Robynn Randell
July 2015, Laurie-Ann Stewart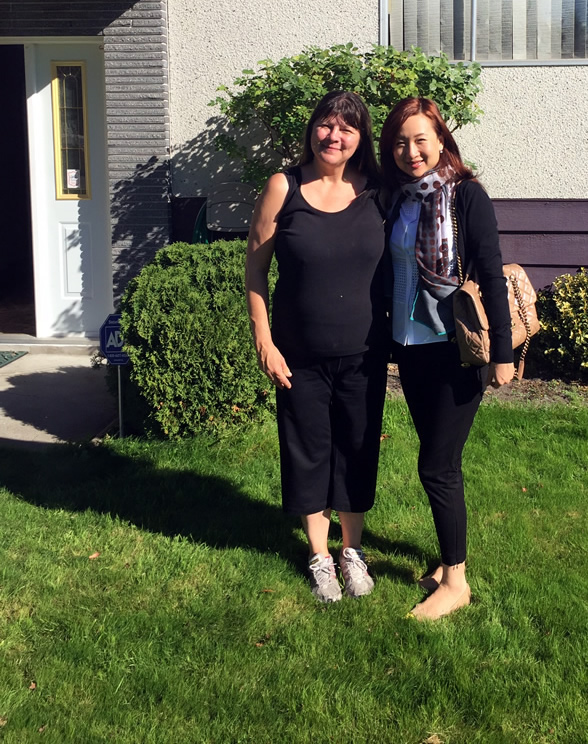 Hi Vivian, I am writing to thank you for your excellent work in selling our home. As you had an interested buyer it made things a lot easier for us and we are very satisfied with the sale price. You are always available to answer any of our questions then went out of your way to accommodate. Your service was exceptional! Thank you so much Vivian for making the sale of our home seamless.
August 2016, Kathryn Schertzer
Hi, Vivian,

I just want to say thank you for selling our house and finding the perfect buyers. I think you did an amazing job and I will recommend you to anyone and everyone in the area and in our future home in kitsilano. ... And I thought I should email you and thank you for all you effort and hard work to make this sale. From the bottom of my heart I thank you.
August 2016, Crawford Funston
Hi Vivian,

Just wanted to thank you for sending to us or dropping off the special coloured advertising brochure of our home. We have been away for almost 3 weeks and when we returned home,this brochure was in our home with other mail. I didn't realize our home looked so good! Good job.

I hope you are doing well. The market seems much slower than before. I think our sale was very timely for which we are thankful. You did an excellent job helping us sell our home. We are taking good care of our new owners home and yesterday spend time raking the back yard that was full of many, many oak leaves.

Have a nice weekend.

Blessings,
Crawford
July 2019, BD Ross
Vivian Choi was a superb agent. She was very professional and extremely hard working. She used a variety of techniques which helped to sell our home. She had a very good personality and was a pleasure to deal with. She was always positive and confident that our house would be sold quickly. At the final stage before signing the agreement the buyers showed some hesitation but through skillful negotiating she was able to get them to agree to buy home. I give full credit to Vivian for the sale of our home.
October 2019, Linda
Vivian is so amazing! She is very professional and diligent! She has done a great job in selling our condo unit in Richmond, BC recently. She is always helpful, incredibly responsive, and very friendly. She always goes above and beyond of her tasks and duties to help her clients to reach their goals. We are so grateful for all her assistance of the sale of our property for the entire process. I'd definitely recommend Vivian to everyone for their real estate needs.
March 2020, Jennifer Tsai
To Vivian Choi:
Thank you Vivian for bringing the buyer to purchase my home. When you said you have a buyer for my house, I had doubts about it. You brought the buyer and sold my house within 2 weeks and help us to solve problems. Your professional service and expertise are greatly appreciated!

I will hire you as my realtor and I am looking to work with you for my next real estate transaction.
Jennifer Tsai
June 2020, Annie Zhai & Jack Ni
Hi Vivian,
Everything's going great. Just one small issue we've noticed that we've contacted the developer about. We'll be busy getting furnitures the next few weeks :)

Thank you and Stella for all the showings and guiding us through this process! We'll be sure to recommend you to our friends.

Take care and stay safe!

Annie & Jack